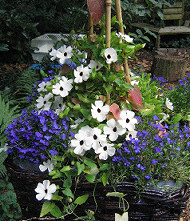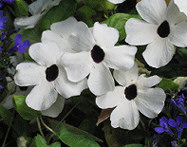 No, no weeds this time. I filled a reed basket whit some plants i bought at a big market garden Arboral, half an hour driving from here.

I did put a "Suzanna met de mooie ogen" (Thunbergia alata alba) and some Lobelia's together in the basket.

I most like the white flowers. The name itself is like a poem. Translated from Dutch : Suzanna whith the beautiful eyes. A local name is "Spanish Eyes". What's more: it make me think of a special lady.
It's a lovely very light beige flower with a deep purple, almost black center. I find it a bit mysterious, but o so lovey.